Across the World, Let our creed be
Satyam, Shivam, Sundaram (Truth, Goodness, Beauty)





BJP, RSS & Hindu Political Thought

Anil Chawla
9 June 2009
Sudheendra Kulkarni, a key aide of LK Advani, wrote an article about the malaise afflicting BJP and Sangh Pariwar. Sudheendra's article was published in tehelka.com. This reply to the article takes a critical and frank look at LK Advani's role in the problems facing BJP today.


Advani Volte Face: Sublime to Ridiculous

VT Joshi
August 2005
LK Advani has done a political somersault - distancing himself from his comments in Pakistan and jumping back into the bus with RSS and VHP. He has also dumped his aide Sudheendra Kulkarni who continues to be a voice of reason.



Open Letter to Mr. L.K. Advani about M.A. Jinnah
Author - Anil Chawla
9 June 2005

While on a visit to Karachi, Mr. L.K. Advani praised M.A. Jinnah and called him a secular leader. An open letter that discusses Jinnah and challenges Mr. Advani's views.

(7 pages, 121 KB)
Printer-friendly pdf format.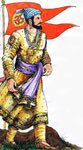 Shivaji Ke Abhishapt Manasputr
Cursed ideological sons of Shivaji (Hindi)
Author - Anil Chawla
May 2005

End of Shivaji's empire began on the day of his coronation. This seems to be a curse that continues to this day afflicting all parties and organization believing in Hindu / nationalist ideology. This article in Hindi makes an attempt to analyze some of the mistakes made by Shivaji in his later years. It is inspired by the famous play Janta Raja.

(9 pages, 181 KB)
Printer-friendly pdf format.



BJP - A Circus Of Crowd-Pullers Or A Party Of Governance
Anil Chawla
21 November 2004
On 10 November, BJP's meeting of office-bearers turned out to be a nationally televised fiasco, with Uma Bharti openly challenging Advani's authority. A discussion on the internal dynamics of BJP in the light of the Uma Bharti episode.


Convulsions of a Setting Sun
Anil Chawla
27 June 2004
Defeat in 2004 general elections could have been an opportunity for Bharatiya Janata Party to purge itself of deadwood and reinvent itself. Instead, the party seems to be going the Hindu Mahasabha way. As the sun sets on BJP, the party gropes in the dark while its leaders indulge in petty games in seven-star comforts.


Technical Analysis of Feel Good And India Shining
Anil Chawla
8 April 2004
Ruling alliance has chosen to face Indian parliamentary elections of 2004 on the plank of feel-good and India Shining campaign. An analysis of the plank and campaign based on fundamental principles of marketing and advertising.


A SWOT ANALYSIS OF BJP

GODHRA, GUJARAT AND AYODHYA - A HISTORICAL PERSPECTIVE

REENGINEERING OF BJP
This trilogy (dated 27 Feb - 11 April 2002) about Bharatiya Janata Party (Ruling Party of India) analyses the party's Strengths, Weaknesses, Opportunities and Threats, while at the same time taking a historical perspective about Hindu Nationalist political stream.


Victory for BJP in Goa -
Lessons in Madhya Pradesh & Chhatisgarh
9 June 2002
BJP faces a lack of talent in the key states of Madhya Pradesh and Chhatisgarh. School dropouts aspiring to be Chief Minister do not inspire people's confidence. This article compares the situation of BJP in MP & CG with the situation in Goa where Manohar Parrikar, a graduate of IIT Bombay fought against all odds and led the party to victory.
Goa mein bhajpa ki vijay aur madhya pradesh ke vatvriksh
Please click here to download Hindi version of the above article.
(3 pages, 38 KB)
Printer-friendly pdf format.



A CADRE BASED PARTY & IVORY TOWERS
7th July, 2000
Rumours of Beef in Tea exposed the weakness of Bharatiya Janata Party in responding to unexpected developments